Final Cut Pro for Social Media
Course Length – 3 Days   
/
   Course Price: 1,495.00 USD
Feeling like creating content in Final Cut should be easier or brand new to the application? Level up your editing game with this course designed specifically with you and your time in mind. 
Final Cut Pro helps you seamlessly prepare and edit video for social media distribution. All you have to do is know how it thinks. This one-day class will teach you some of the fundamentals of post-production and walk you through creating a trailer from start to finish. In this class, we'll learn how to import footage from our phone and other sources as well as create, edit, add video effects, color correct and share stories with our audience.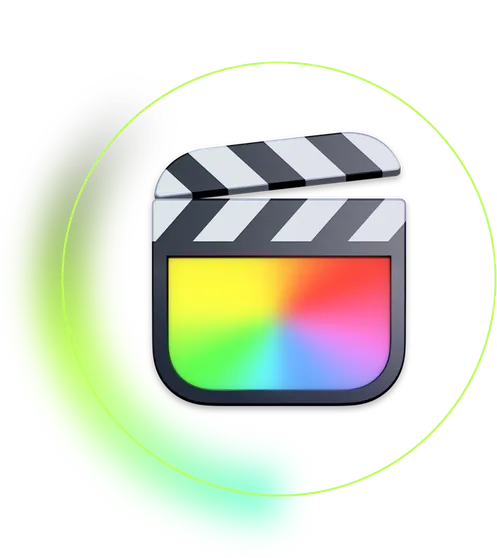 Upon completion of this course, students will be able to:
Use libraries to organize and manage media and projects
Apply exceptionally fast editing techniques for video and audio
Fine-tune clips in the timeline
Apply effects and transitions, and retime clips
Work with 3D titles, 360 video, and multi-cam clips
Create captions
Manipulate images with the color correction effects
Students will also finish and share their final project
If you are an intermediate or advanced Final Cut User this class may not be for you. If you are using Final Cut for film and broadcast you may want to check out our 2 day class here
To ensure your success in this course, you should have:
End-user Mac OS computer skills
Including being able to start programs
Switch between programs
Locate saved files
Close programs
Access websites using a web browser
Note: The curricula below comprise activities typically covered in a class at this skill level. The instructor may, at his/her discretion, adjust the lesson plan to meet the needs of the class.
Lesson 1: Getting Started
Editing with Story in mind
An overview of the Post-Production Process
Knowing what to expect from clients and managing workflow
The main stages of Video Editing
Final Cuts Ecosystem
Final Cuts Pros File Structure
A Tour of the interface and basic workspaces
Lesson 2: Importing and Organize
Drag and dropping files into Final Cut
Leaving versus copying files
Importing Footage from Your iPhone
Transcoding Media
Changing browser Clip Appearance and Sorting
Applying Keywords
Making Favorites
Using Library Smart Collections
Working in Filmstrip and List View
Lesson 3: Create Projects and Editing
Effective playback and preview methods
Making in and Out points
Creating a Project
Using Append, Insert and Connect
Basic Timeline Navigation
Replacing Clips
Bring Video or Audio of a source only
Working with iPhone HDR footage
Opening an imovie iOS Project
Lesson 4: Refining the Edit
Moving, Rearranging and deleting clips
Trimming Clips including trim start and trim end
Rolling and Slipping Edits
Working effectively with connected clips
Working with Headers and Footers
Lesson 5: Working with Sound

Understanding Audio Configuration
Monitoring Sound and Soloing Clips
Lowering Volume Effectively
Creating Audio Ducks
Creating Audio Fades with J and L Cuts
Lesson 6: Transforming Clips
Scaling and Repositioning clips in the Viewer and Inspector
Resetting Parameters
Working with Ken Burns
Working with default clip size
Stabilizing a Shot
Lesson 7: Transitions, Speed, and Effects
Adding transitions
Replacing and modifying transitions
Working with SloMo Footage
Speeding Up and Slowing down clips
Creating Variable Speed changes
Adding Effects
Adjusting, resetting and copying effects to other clips
Lesson 8: Basic Color Correction
Performing white balance and matching clips
Applying look presets
Adding LUT's
Performing a basic color grade in the color inspector
Working with Compound Clips
Lesson 9: Multicam Editing Intro
Syncing Audio and Video
Syncing a 2 shot interview clip
Editing an interview in the Angle Viewer
Refining the multiclip edit
Lesson 10: Working with Text and Graphics
Browsing Text templates in the Titles and generators Sidebar
Exploring social media friendly templates
Changing Font, Color and Position
Replacing Text
Knowing about animate friendly text options
Importing a Photoshop file
Getting a Project ready for multiple social media formats
Working with Closed Captions
Adding Additional Useful Destinations
Creating a Bundle
Batch Exporting Clips